Transform budgets in invoices with minimal effort
Automatically invoice based on sale orders, delivery orders, contracts or time and material
________________________________
Easily create invoices based on budgets sent to your clients.

________________________________
Send invoices with professional appearance to your clients in one click.

________________________________
Send via email with a PDF annex or print and send by mail.

asimplifiFY YOUR ACCOUNTING

Follow your bank account movements and your invoices status
Get a general view from your status to help you follow drafts, payed and not payed invoices.
Automatically register all transactions from your bank accounts, importing and reconciling all your bank extracts.

Analise your sales
Access to precise data to get a general view
Obtain direct access to important information with dynamic and customizable panels.
Make your own definition and analysis to product billing, client, vendor, etc.




Accounting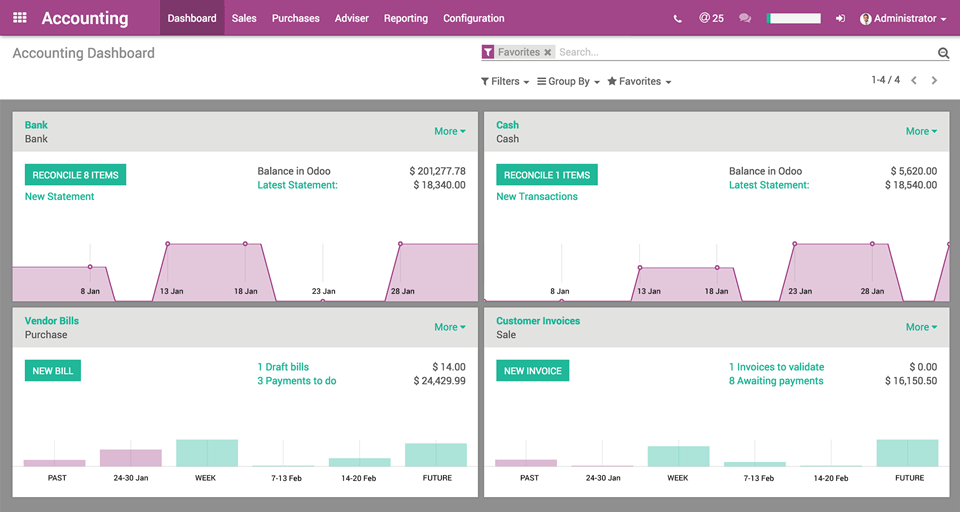 Sync with bank
Get your bank extracts or importing arquives.

Manage counting and expenses
Control your suppliers invoices to get a clear view for your future bills.
Invoicing
Create professional invoices, manage recurring invoice and easily control payments.

Easy Reconciliation
Save time and automate 95% with this tool.


Elegant and Dynamic Instructions
Easily create profit reports, balance sheets or money flow demonstrations.
Filter, zoom, take notes or compare all your data.
Use business intelligence to generate reports.